Allergenen? Of andere wensen?
Geef het aan bij uw gastheer of gastvrouw. Wij gaan zorgvuldig om met uw voedselallergie – voedselintolerantie. Kruisbesmetting van allergenen is in onze keuken nooit 100% uit te sluiten.
Vegetarisch eten
Onze menukaart bevat diverse vegetarische gerechten, deze zijn aangeduid met . Laat u verrassen door onze vegetarische keuken en informeer naar de mogelijkheden.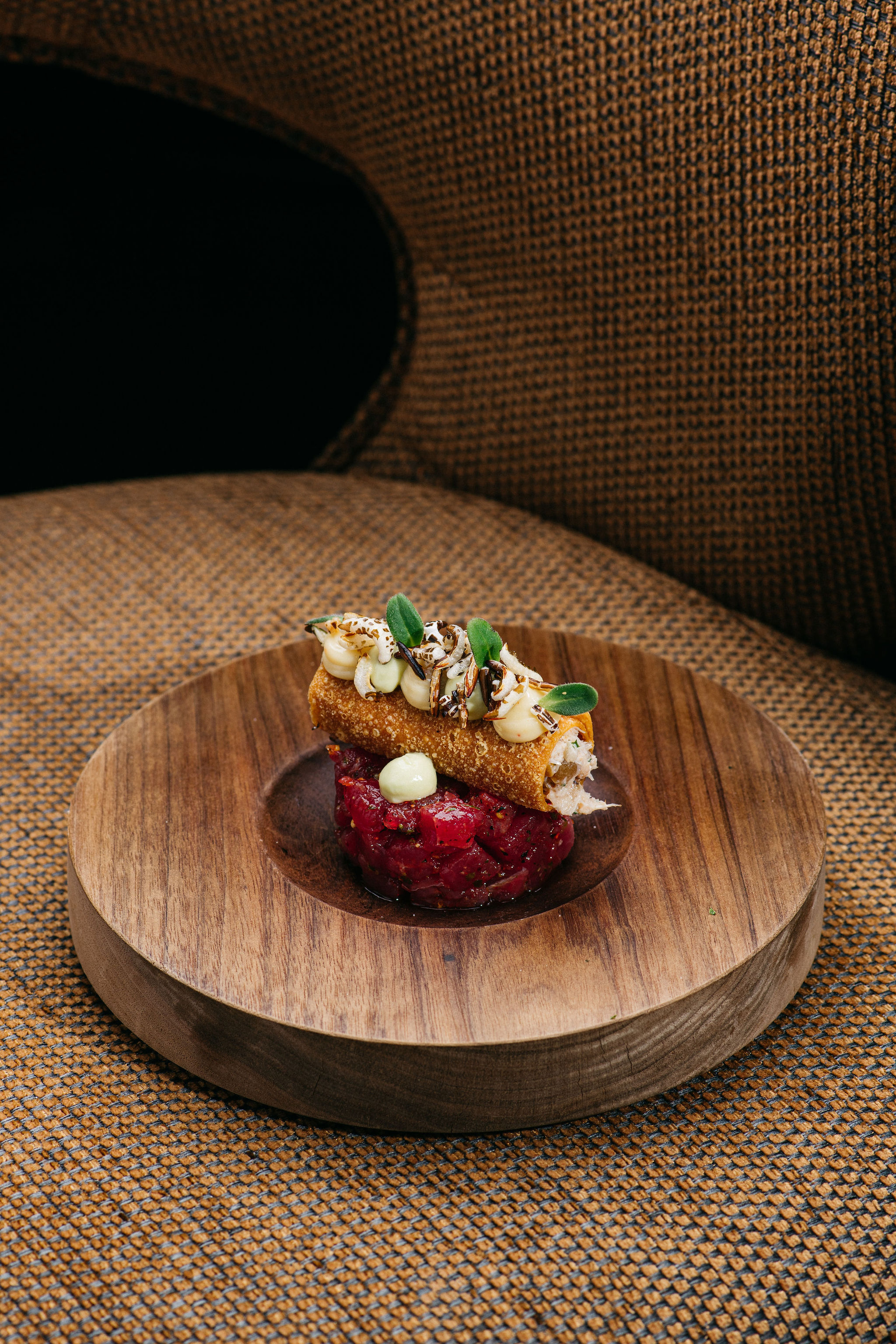 Voorgerechten
Starters
Vorspeisen
Les entrées
€ 16,75

Pulled pork

Langzaam gegaard livar met witte kool en ganzenlever krullen

€ 16,75

Rouleau van Sliptong

met remouladesaus en kreeften espuma

€ 19,50

Krokant gebakken kalfszwezerik

met een crème van pastinaak, grotchampignons en truffelschuim. Specialiteit van de chef

€ 18,50

Bouillabaisse

Rijk gevulde vissoep met verse vis, schaal- en schelpdieren

€ 17,50

Vegetarisch gerecht van de maand
€ 16,95

6 Oysters

112 Oysters € 29,95

€ 12,75

Beef carpaccio

with truffle mayonnaise, Parmesan cheese, rocket, pine nuts, truffle oil, and sun-dried tomatoes

€ 14,95

Vegetarian dish of the week

€ 15,75

Gravad Lax with "hofmeestersaus"

€ 16,75

Rouleau of small Sole Fish

in kataifi pastry with remoulade sauce and lobster espuma

€ 16,25

Classic steak tartare

hand-cut from beef fillet

€ 16,00

Richly filled bouillabaisse

Provençal fish soup richly filled with fish

€ 16,95

Crispy fried sweetbread

our chef's speciality, served with a parsnip crème, cave-grown mushrooms, and truffle foam
€ 16,95

Austern 1/2 Dutzend

Austern 1 Dutzend € 29,95

€ 12,75

Rindercarpaccio

mit Trüffelmayonnaise, Parmesan, Rucola, Pinienkernen, Trüffelöl und sonnengetrockneten Tomaten

€ 14,95

Vegetarisches Gericht der Woche

€ 15,75

Gravad Lax mit "hofmeestersaus"

€ 16,75

Seezungenrouleau

in Kataifi-Teig mit Remouladensauce und Hummerschaum

€ 16,25

Steak Tartare préparé

Rinderfilet, von Hand geschnitten

€ 16,00

Sehr reichhaltige Bouillabaisse

Provenzalische Fischsuppe mit hohem Fischanteil

€ 16,95

Knusprig gebratenes Kalbsbries

mit Pastinakencreme, Höhlenchampignons und Trüffelschaum. Spezialität des Küchenchefs
€ 16,95

6 huîtres

12 huîtres € 29,95

€ 12,75

Carpaccio de bœuf

mayonnaise truffée, parmesan, roquette pignons de pin, huile de truffe et tomates séchées

€ 14,95

Le plat végétarien de la semaine

€ 15,75

Gravad Lax avec "hofmeestersaus"

€ 16,75

Rouleau de solettes

en pâte kataifi avec sauce rémoulade et espuma de homard

€ 16,25

Américain préparé

tartare de bœuf au couteau

€ 16,00

Bouillabaisse gourmande

soupe de poisson provençale richement garnie

€ 16,95

Ris de veau croustillants

crème de panais, champignons des bois et mousse de truffe La spécialité du chef
Hoofdgerechten
Main dishes
Hauptspeisen
Les plats
€ 29,95

Tarbot

met bearnaisesaus

€ 24,95

Flat Iron steak Black Angus

met seizoensgroenten en pepersaus

€ 28,50

Krokant gebakken kalfszwezerik

met een crème van pastinaak, grotchampignons en truffelschuim. Specialiteit van de chef

€ 28,50

Tournedos met bearnaisesaus

en seizoensgroenten (supplement ganzenlever € 2,75)

€ 55,00

Lende van 'Wagyu '

( Japans rund A4 )

€ 59,95

Côte á l'os

met bearnaisesaus en seizoensgroenten ( 2pers.)

€ 23,50

Vegetarisch gerecht van de maand
€ 19,75

Vegetarian dish of the week

€ 22,75

Prix de Rome Black Angus steak

served with seasonal vegetables and a pepper sauce

€ 22,75

Catch of the day

fresh fish, changes on a regular basis (ask our waiting staff which fish we are serving today)

€ 23,75

Flank steak

this cut comes from Australian grain-fed beef and has become a delicacy in France

€ 21,00

Richly filled bouillabaisse

Provençal fish soup richly filled with fish

€ 24,50

Crispy fried sweetbread

our chef's speciality, served with a parsnip crème, cave-grown mushrooms, and truffle foam

€ 26,95

Rib-eye 250 grams with béarnaise sauce

and seasonal vegetables

serves 2 € 59,95

Porterhouse steak (aged)

for many this is the ultimate cut of beef with bone-in. Served with béarnaise sauce, fresh vegetables, and chips

€ 27,50

Turbot fillet

with a champagne butter sauce

€ 27,95

Irish tournedos with béarnaise sauce

(add foie gras € 2,75)

€ 2,50

Add chips and homemade mayonnaise
€ 19,75

Vegetarisches Gericht der Woche

€ 22,75

Black Angus Steak Prix De Rome

mit Saisongemüse und Pfeffersauce

€ 22,75

Tagesfang

regelmäßig wechselndes Angebot an frischem Fisch (Fragen Sie die Bedienung nach dem Tagesangebot)

€ 23,75

Bavette

das australische Rind wird mit Getreide gefüttert und ist inzwischen eine Delikatesse in Frankreich

€ 21,00

Sehr reichhaltige Bouillabaisse

Provenzalische Fischsuppe mit hohem Fischanteil

€ 24,50

Knusprig gebratenes Kalbsbries

mit Pastinakencreme, Höhlenchampignons und Trüffelschaum. Spezialität des Küchenchefs

€ 26,95

Rib-Eye 250 Gramm mit Sauce Béarnaise

und Saisongemüse

Für 2 Personen € 59,95

Côte à l'os (gereift)

für viele das schönste Stück Rindfleisch (mit Knochen) Serviert mit Sauce Béarnaise, frischem Gemüse und Pommes frites

€ 27,50

Steinbuttfilet

mit einer Champagnerbuttersauce

€ 27,95

Irisches Tournedos mit Sauce Béarnaise

(Beilage Gänseleber € 2,75)

€ 2,50

Beilage Pommes frites mit hausgemachter Mayonnaise
€ 19,75

Le plat végétarien de la semaine

€ 22,75

Steak Black Angus façon Prix De Rome

légumes de saison et sauce au poivre

€ 22,75

Pêche du jour

poisson frais du jour selon la saison (demandez à notre personnel le plat d'aujourd'hui)

€ 23,75

Bavette

morceau de bœuf australien nourri aux céréales préparé à la Française

€ 21,00

Bouillabaisse gourmande

soupe de poisson provençale richement garnie de poissons et coquillages

€ 24,50

Ris de veau croustillants

crème de panais, champignons des bois et mousse de truffe La spécialité du chef

€ 26,95

Faux-filet 250 grammes sauce béarnaise

et légumes de saison

Pour 2 personnes € 59,95

Côte à l'os (maturée)

Ce que beaucoup considèrent comme le meilleur morceau du bœuf, servi avec l'os, une sauce béarnaise, des légumes frais et des frites

€ 27,50

Filet de turbot

avec une sauce au beurre au champagne

€ 27,95

Tournedos irlandais et sauce béarnaise

(Supplément de foie gras € 2,75)

€ 2,50

Supplément de frites et mayonnaise maison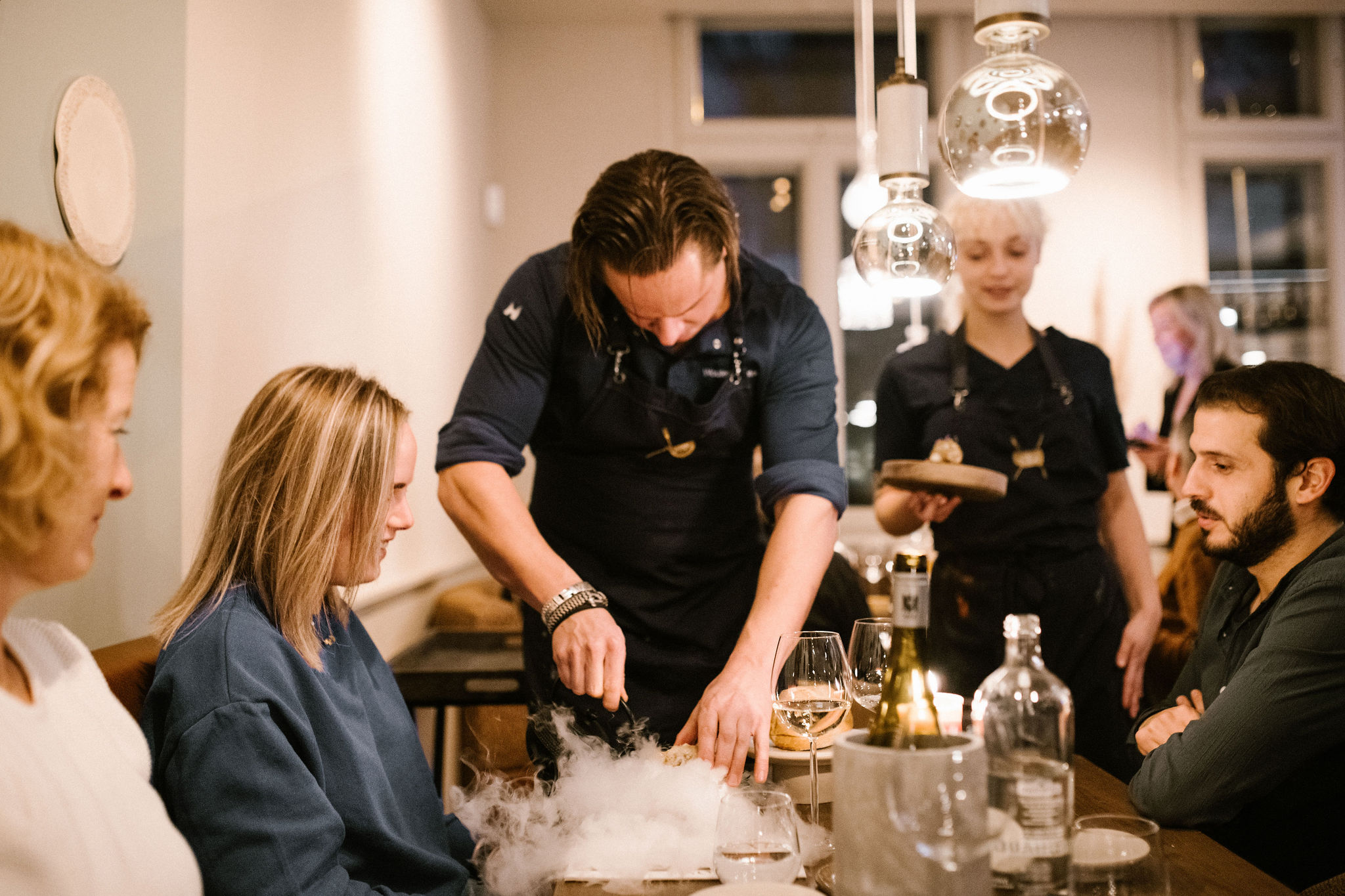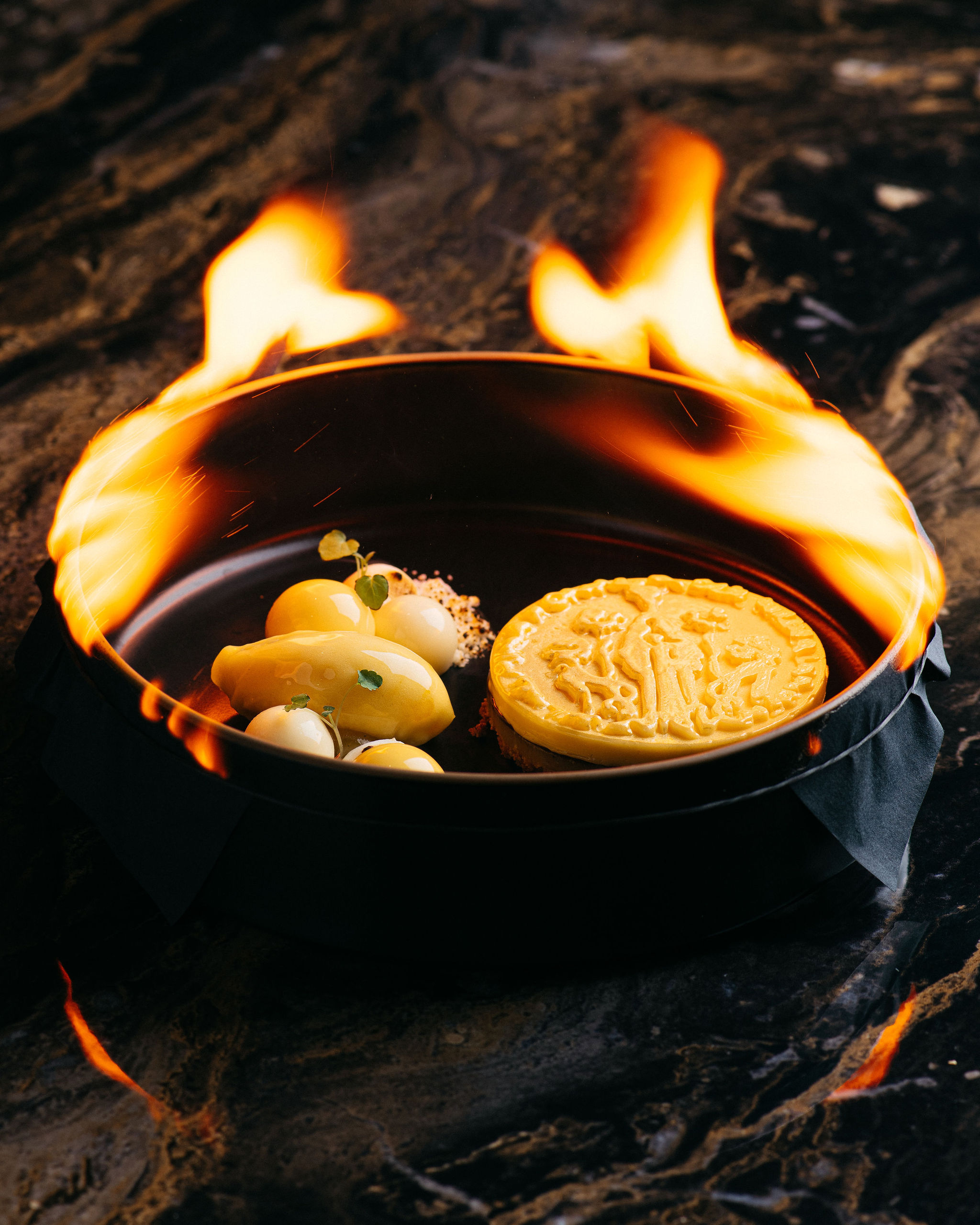 Nagerechten
Desserts
Nachspeisen
Les desserts
€ 13,50

Bieslander bol

€ 13,50

Millefeuille

Bladerdeeg, peer, vanillecrème

€ 15,50

Dessert van de Chef

favoriete dessert van Wouter

€ 15,00

Ambachtelijke kazen

diverse soorten kaas met notenbrood
€ 10,50

Dame Blanche

vanilla ice cream with chocolate sauce, whipped cream, and almonds

€ 10,95

Go Nuts

hazelnut, yuzu, amaretto and sorbet of cherries

€ 11,25

Mille-Feuille

puff pastry, fresh fruit and ice cream

€ 12,75

Dessert from the Chef

favorite dessert from the chef

€ 13,50

Prix de Rome cheeses

variety of cheeses served with nut bread
€ 10,50

Dame Blanche

Vanilleeis mit Schokoladensauce, Schlagsahne und Mandeln

€ 10,95

Go Nuts

Haselnuss, Yuzu, Amaretto und Sorbet von Kirschen

€ 11,25

Mille-Feuille

Blätterteig, frisches Obst und Eis

€ 12,75

Dessert vom Küchenchef

Lieblingsdessert vom Küchenchef

€ 13,50

Käse Prix de Rome

verschiedene Käsesorten mit Nussbrot
€ 10,50

Dame Blanche

glace vanille, sauce au chocolat, crème fraîche et amandes

€ 10,95

Go Nuts

noisette, yuzu, amaretto et sorbet de cerises

€ 11,25

Millefeuille

pâte feuilletée, fruits frais et glace

€ 12,75

Dessert du chef

dessert préféré du chef

€ 13,50

Les fromages Prix de Rome

assortiment de fromages avec pain aux noix